Firehole River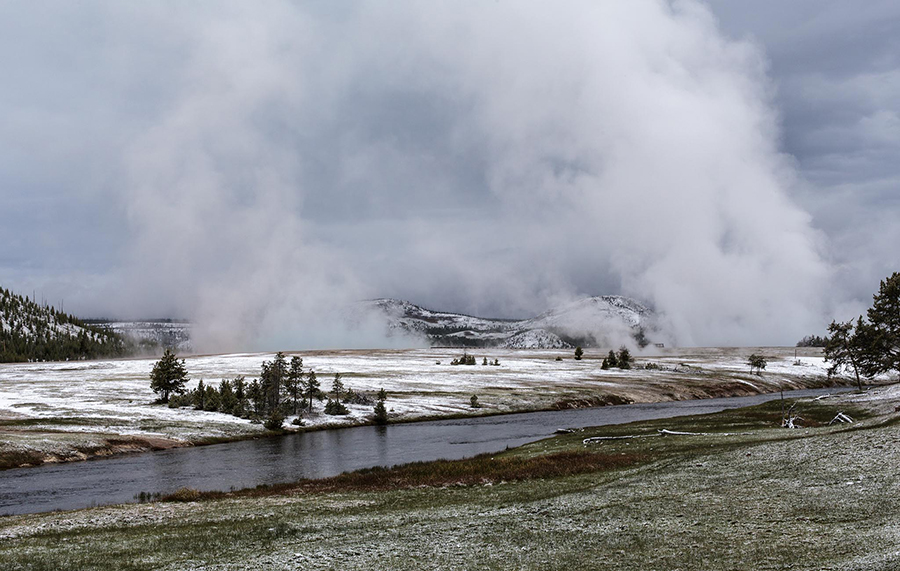 Firehole River starts as a backwoods stream and morphs into a river 30 miles long. A river that wanders through some of the most interesting sights of Yellowstone National Park.
As it flows north it's first two big sights are the Lone Star Geyser then the Kepler Cascades. The Cascades is a series of tiers that drop the Firehole River water down over 100 feet into the Devil's Gorge.

The Cascades is just 2.7 miles south of the Old Faithful Area and a few steps from your car.

At the end of the Kepler Cascades parking lot is the trail head parking lot to Lone Star Geyser which is a beautiful 2.3 mile walk along the side of Firehole River. I enjoyed watching a mother Common Merganser and her chicks during the summer of 2013 swimming on the river.

Then the river moves into the Upper Geyser Basin the home of Old Faithful Geyser and Inn. The iconic 1904 Old Faithful Inn is probably within 150 yards from the Firehole River. The geyser is even closer.

Firehole River cutting through the Old Faithful Area of the Upper Geyser Basin. It was a cold morning and you can see the fog at the back of the picture. Old Faithful Geyser is about 50 to the left.

Because the river moves through the geyser basins its base temperature is 25 degrees Fahrenheit hotter than the other rivers in the Park.

In the picture on the right you see Riverside Geyser erupting and the spray and runoff all ends up in the Firehole River. Riverside Geyser's temperature is 201.2 degrees Fahrenheit. And Riverside is only one of the geysers spilling hot water and minerals into the river.

Firehole continues to flow north going through and by the Midway Geyser Basin, as seen above, The Firehole River rambles through Lower Geyser Basin and eventually joins the Gibbon River to form the Madison River which flows out the west part of the Park on its' way to the Pacific Ocean.
Near the end of the river it takes another drop at the Firehole Falls. Firehole Falls drops the Firehole River 40 feet as the river cuts through the Firehole Canyon. Rapid and noisy at the falls just a short distance up river the water is tranquil and belies the rage that will soon take the river through the canyon.